Van Nuys arrange a 1000km cruise every 2. year in Denmark.
Denmark Cruise is an anual (every 2. year) event held on a national holiday called "St.Bededag", that is always an friday, and the week-end following it. The ideer is to get the cars out of there winther hidding and in to the streets in company with other entusiasts. It is three members of the Danish US car club called Van Nuys in Jylland (Part of Denmark) who got this idea totaly without support from the club. ( They wan´t it like that ) They try to get 50 US cars to drive through Denmark nice and easy. And to get people from different parts of the country to unite and have a good time with there cars and people with the same interest. This may not sound as many cars for an American but in Denmark this is a lot of people. Another thing is that the trip will be aprox. 1000 KM ( 600 miles ) which can amount to a lot of money in gasolin especialy for a young man with a low paid job. The gasolin in Denmark cost about 1 - 1,2 dollar a liter - that is 4 - 5 dollar a gallon. The arangement is on the other hand sponcered for a large part of the original price and included this year 2 * hotel, 3 * breakfast and 2 * dinner. This year was the first for me and i think only the third total. Besides the basic needs they have arranged a lot of quizes with sponsered prices and a few surprices along the trip. All in all there are no excuse for not participate. Except maybe the gasolin expens, but everything is relative. I had an average use of 2,42 KM/L that is below 6 miles/gallon and I didn´t break the record. One of the others was as low as 3,5 miles a gallon in average. I had an excuse : my brand new Holley was defect. The other car ( A very nice Buick ) just did use that amount of gasolin to get the compressor driven engine to run. Wild ah?

This picture is a moody one from the starting point friday morning. We where 43 shiny V8´s ready to go. Here some of them are pictured on the gas station where the arangement started:





This year the trip started at Shell in Odense city that besides space , koffee, bread and sponsered prices also had a very special gift to the drivers. From here on after a fair time spend on exibiting the cars we drove to Kerteminde city where some of us got somthing to eat for about an hour or so and others played miniature golf. We took off to Langesø and held a breake there and then to Vejle city where they had aranged Spare Ribs and Softice on Restaurant Bones. Nice food, nice place - We took up all of the sidewalk, all of the parking spaces, some of the the bicycle path, the backyard of the restaurant where Bones had put up a sign for people to see : More cars in the backyard ! and some of the nabour´s parking space a gas station. We where 43 cars as mentioned plus the ones that just followed us when we meat them. You know that european cars a a lot smaller than US cars - imagen how much space we took up on the 5 parking space´s there was. From Bones we took of to Scandic Hotel in Kolding where we got booked on 2 mans hotelrooms - Very nice. Scandic had marked up 50 parkingspaces for us to use, close to the entrance so that first of all we where together and secondly it was easyer for us to keep an eye of the cars. Very very nice. To day was cheap - we only spend money on lunch and gasolin - Great tour that started a little clowdy but very soon got bright and sunny. You get a little red on your face when the first sun of the year comes directly in through a cab or a targa i must say. Here are a picture of my car right before we took of from Shell yesterday. Normaly there are no pastering on my car but this exeptional trip was worth the two streamers: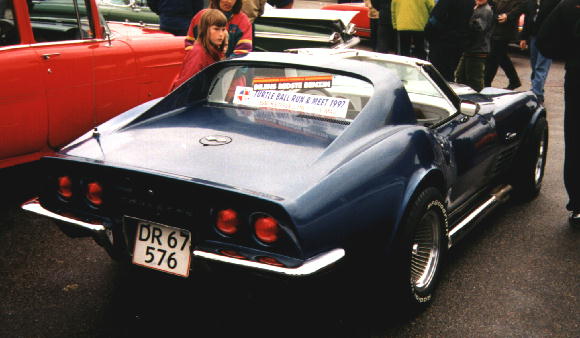 Saterday morning is still sunshine and we drove to skamlingsbanken og looked around. From there we went to McDonalds in Sønderborg by Margurite routes. McDonald treated us with lunch. We could of course not fit in to the parking space of McDonald´s - all respect for USA and american companies the european version of those companies does not make space for american vehicles. I find that fact a little ridiculous. We parked at a privat parking space near by where we exhibitet our cars for an hour or so. A possitive thing is that for the first time we should not wait for our food which I found admirabel considering urlier experience. It was not there fault that we came 50 cars in one shot and with that in mind they did a fine job. My boot´s unfortunately wasn´t quit ran in all thow they were 8 month old so I found a shop near by that sold me some rubber shoes and that took care of that problem. I looked a little silly in my bare feet early´er that day. We then took of to Aabenraa where we took a short break before we went back to the hotel. We arived at 6 pm. to an arangement where people where invited to see all the fine shiny cars and there was an appearance of the local television company TV-Syd. The hotel had aranged Mexican evening with everything that would and should be to such an arangement such as food, liquer, music, jail, pisshouse, hats and guns. Excuse me for the langage but it realy was a pisshouse. The Farum club did there little thing with singing and dancing and teathering with a bull and bullfighting. Well besides the little party´s around the room´s friday night this party could add a few more to the list of people who got a little "cooked" / "fried" this week-end. Very nice arangement.

Sunday morning, people are tired and checking out of there rooms to start the trip to Middelfart harbour. We are driving by margurite routes like the other days and are going throug Kolding Castle to day. We where little surprised when we passed TV-Syd who where filming our departure. We all found that very exciting but dobbel Søren from ACC took that thought a little further when they invited the TV crew to join them in Søren´s and Lene´s foxy red Oldsmobile Convertible. They did and they followed us to Middelfart with camera and speaker and everything. I think they got almost everyone in that little black box in several meter of film. Here I will aske anyone who has a copy of that tape to come forward and sell me a copy, or if any one has some other filming of this arangement it would be nice to buy a copy of thet. PLEASE ! We exhibitet the cars in Middelfart and TV-Syd went home. We later meet TV-Fyn sitting on a bridge the old Lille Bælts Bridge filming us driving over it. (This video is also interesting of course.) We arived at a GM dealer in Nørre Åby - Leif Larsen - who besides space treated us with a sanwich. This was the end of the officiel part of the trip where there was some competitions and the officielle hand out of trofy´s. Some of us still had about 100 miles before we where all the way home.

I think that most if not all of the people involved in this arangement think that this is absolutely the greatest arangement of its kind in Denmark 1997 and that it is completely unfair to let only three people do all the work to get this thing going - but they want it like that. In conjunktion to that will I and my girlfriend Miriam give our undiveded thanks to this enormous work it must have been to assembly all these sponceres, aranging the tour, make quizes and arange the ferry for some of us and so on and so on. It is very clear that they can do there stuff. This arangement shows clearly how fullhearted these three people are in aranging this and making everything comfortable for the participants and making this tour wonderfull.




Thousand Thanks to :

Torben, Susanne & Skjold.


And to our sponceres:

Shell in Odense.
Bones in Vejle.
Scandic Hotel in Kolding.
McDonalds in Sønderborg.
Leif Larsen in Nørre Åby.



I have no pictures of the actualy trip but here are a lot of pictures taken on the gas station where we started from at noon on St.Bededag-friday. The pictures are also part of my photo album and can be obtained at USA-0736 - 0759.